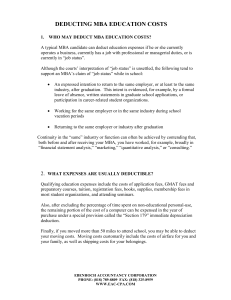 deducting mba education costs
... Also, after excluding the percentage of time spent on non-educational personal-use, the remaining portion of the cost of a computer can be expensed in the year of purchase under a special provision called the "Section 179" immediate depreciation deduction. Finally, if you moved more than 50 miles to ...
Earned income tax credit
The United States federal earned income tax credit or earned income credit (EITC or EIC) is a refundable tax credit for low- to moderate-income working individuals and couples—particularly those with children. The amount of EITC benefit depends on a recipient's income and number of children. For a person or couple to claim one or more persons as their qualifying child(ren), the relationship, age, and shared residency requirements must be met, as well as some other requirements. In the 2013 tax year, working families with children that have annual incomes below $37,870 to $51,567 (depending on the number of dependent children) may be eligible for the federal EITC. Workers without children that have incomes below about $14,340 ($19,680 for a married couple) can receive a very small EITC benefit. U.S. tax forms 1040EZ, 1040A, or 1040 can be used to claim EITC without qualifying children. To claim the credit with qualifying children, 1040A or 1040 must be used along with Schedule EITC attached.EIC phases in slowly, has a medium-length plateau, and then phases out more slowly than it was phased in. Since the credit phases out at 21% (more than one qualifying child) or 16% (one qualifying child), it is always preferable to have one more dollar of actual salary or wages (although technically, since the EIC table moves by fifty dollar increments, it's always preferable to have an extra fifty-dollar increment of salary or wages) considering the EITC alone. (If combined with multiple other means-tested programs such as Medicaid or TANF, it is possible that the marginal tax rate approaches or exceeds 100% in rare circumstances depending on the state of residence; conversely, under certain circumstances net income can rise faster than the increase in wages due to the EITC phase-in.)For tax year 2013, the maximum EITC benefit for a single person or couple filing without qualifying children is $487. The maximum EITC with one qualifying child is $3,250, with two children it is $5,372, and with three or more qualifying children it is $6,044. These amounts are indexed annually for inflation. On December 4, 2014, the The Atlantic reported that the EITC will reduce revenue to the federal government by about $70 billion in 2015.The earned income tax credit has been part of political debates in the United States regarding whether raising the minimum wage or increasing EITC is a better idea.