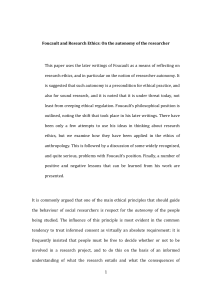 Researcher autonomy as an ethical principle: Lessons from Foucault
... Thus, in the first volume of his History of Sexuality, where he starts to address the issue of ethics, Foucault (1990a) challenges the idea that we have liberated ourselves in our attitude towards diverse sexual practices as compared with the repression of the nineteenth and early twentieth centurie ...
Michel Foucault
Michel Foucault (French: [miʃɛl fuko]; born Paul-Michel Foucault) (15 October 1926 – 25 June 1984) was a French philosopher, historian of ideas, social theorist, philologist and literary critic. His theories addressed the relationship between power and knowledge, and how they are used as a form of social control through societal institutions. Though often cited as a post-structuralist and postmodernist, Foucault rejected these labels, preferring to present his thought as a critical history of modernity. His thought has been highly influential both for academic and for activist groups, such as within post-anarchism.Born in Poitiers, France, into an upper-middle-class family, Foucault was educated at the Lycée Henri-IV and then at the École Normale Supérieure, where he developed an interest in philosophy and came under the influence of his tutors Jean Hyppolite and Louis Althusser. After several years as a cultural diplomat abroad, he returned to France and published his first major book, The History of Madness. After obtaining work between 1960 and 1966 at the University of Clermont-Ferrand, he produced two more significant publications, The Birth of the Clinic and The Order of Things, which displayed his increasing involvement with structuralism, a theoretical movement in social anthropology from which he later distanced himself. These first three histories exemplified a historiographical technique Foucault was developing called ""archaeology"".From 1966 to 1968, Foucault lectured at the University of Tunis, Tunisia, before returning to France, where he became head of the philosophy department at the new experimental university of Paris VIII. In 1970 he was admitted to the Collège de France, membership of which he retained until his death. He also became active in a number of left-wing groups involved in anti-racist campaigns, anti-human rights abuses movements, and the struggle for penal reform. He went on to publish The Archaeology of Knowledge, Discipline and Punish, and The History of Sexuality. In these books he developed archaeological and genealogical methods which emphasized the role which power plays in the evolution of discourse in society. Foucault died in Paris of neurological problems compounded by HIV/AIDS; he became the first public figure in France to die from the disease, and his partner Daniel Defert founded the AIDES charity in his memory.