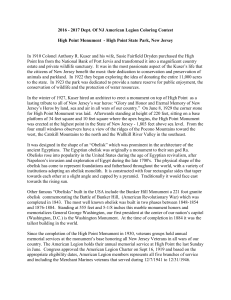 2016-17HighPoint
... for High Point Monument was laid. Afterwards standing at height of 220 feet, sitting on a base platform of 34 feet square and 10 feet square where the apex begins, the High Point Monument was erected at the highest point in the State of New Jersey - 1,803 feet above sea level. From the four small wi ...
Prison Ship Martyrs' Monument
The Prison Ship Martyrs' Monument in Fort Greene Park, in the New York City borough of Brooklyn, is a memorial to the more than 11,500 American prisoners of war who died in captivity aboard sixteen British prison ships during the American Revolutionary War. The remains of a small fraction of those who died on the ships are interred in a crypt beneath its base. The ships included the HMS Jersey, the Scorpion, the Hope, the Falmouth, the Stromboli, Hunter, and others.Their remains were first gathered and interred in 1808. In 1867 landscape architects Frederick Law Olmsted and Calvert Vaux, designers of Central Park and Prospect Park, were engaged to prepare a new design for Washington Park as well as a new crypt for the remains of the prison ship martyrs. In 1873, after urban growth hemmed in that site near the Brooklyn Navy Yard, the remains were moved and re-interred in a crypt beneath a small monument. Funds were raised for a larger monument, which was designed by noted architect Stanford White. Constructed of granite, its single Doric column 149 feet (45 m) in height sits over the crypt at the top of a 100-foot (30 m)-wide 33 step staircase. At the top of the column is an eight-ton bronze brazier, a funeral urn, by sculptor Adolf Weinman. President-elect William Howard Taft delivered the principal address when the monument was dedicated in 1908.