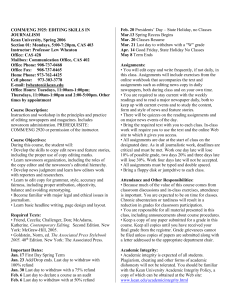 Editing Syllabus SP-06
... • (B): Publishable with some changes required; very good effort • (C): Publishable with significant changes required; average effort • (D): Publishable, but major surgery required; barely passable effort • (F): Unpublishable. Assignment not fulfilled, work not turned in or unacceptably poor work. • ...
Argo (2012 film)
Argo is a 2012 American political thriller film directed by Ben Affleck. The film is adapted from U.S. Central Intelligence Agency operative Tony Mendez's book The Master of Disguise and Joshuah Bearman's 2007 Wired article ""The Great Escape: How the CIA Used a Fake Sci-Fi Flick to Rescue Americans from Tehran."" The latter deals with the ""Canadian Caper,"" in which Mendez led the rescue of six U.S. diplomats from Tehran, Iran, during the 1979–1981 Iran hostage crisis.The film stars Affleck as Mendez with Bryan Cranston, Alan Arkin, and John Goodman in supporting roles, and was released in North America to critical and commercial success on October 12, 2012. The film was produced by Affleck, Grant Heslov and George Clooney. The story of this rescue was also told in the 1981 television movie Escape from Iran: The Canadian Caper, directed by Lamont Johnson.Upon release, Argo received widespread acclaim, with praise directed towards the acting (particularly Alan Arkin), Ben Affleck's direction, Terrio's screenplay, the editing, and Desplat's score. The film received seven nominations for the 85th Academy Awards and won three, for Best Picture, Best Adapted Screenplay and Best Film Editing. The film also earned five Golden Globe Award nominations, winning Best Motion Picture – Drama and Best Director, while being nominated for Best Supporting Actor – Motion Picture for Alan Arkin. It won Outstanding Performance by a Cast in a Motion Picture at the 19th Screen Actors Guild Awards, with Arkin being nominated for Outstanding Performance by a Male Actor in a Supporting Role. It also won Best Film, Best Editing, and Best Director at the 66th British Academy Film Awards.While subject to the usual liberties of a movie fictionalization of actual events, Argo has been criticized for some specific inaccuracies, in particular for minimizing the role of the Canadian embassy in the rescue, for falsely showing that the Americans were turned away by the British and New Zealand embassies, and for exaggerating the danger that the group faced during events preceding their escape from the country.