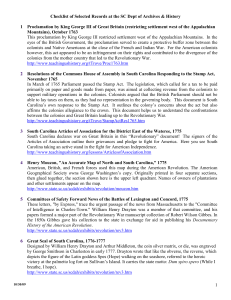 6 Great Seal of South Carolina, 1776-1777
... Resolutions of the Commons House of Assembly in South Carolina Responding to the Stamp Act, November 1765 In March of 1765 Parliament passed the Stamp Act. The legislation, which called for a tax to be paid primarily on paper and goods made from paper, was aimed at collecting revenue from the coloni ...
The Carolinas
The Carolinas are the U.S. states of North Carolina and South Carolina, considered collectively. Combining North Carolina's population of 9,848,060 and South Carolina's of 4,774,839, the Carolinas have a population of 14,622,899 as of 2013. If the Carolinas were a single state of the United States, it would be the fifth most populous state, behind California, Texas, Florida, and New York. The Carolinas were known as the Province of Carolina during America's early colonial period, from 1663 to 1710. Prior to that, the land was considered part of the Colony and Dominion of Virginia, from 1609 to 1663. The province, named Carolina to honor King Charles I of England, was divided into two colonies in 1729, although the actual date is the subject of debate.