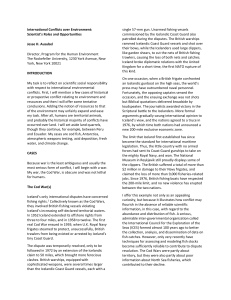 International Conflicts over Environment: Scientist`s Roles and
... fishing rights.1 Collectively known as the Cod Wars, they involved British fishing vessels violating Iceland's increasing self-declared territorial waters. In 1952 Iceland extended its offshore rights from three to four miles, and in 1958 to twelve. The first real Cod War ensued in 1959, when U.K. R ...
Cod Wars
The Cod Wars (Icelandic: Þorskastríðin, ""the cod war"", or Landhelgisstríðin, ""the war for the territorial waters"") were a series of confrontations between the United Kingdom and Iceland regarding fishing rights in the North Atlantic. Each of the disputes ended with Iceland's victory. The final Cod War concluded with a highly favorable agreement for Iceland, as the United Kingdom conceded to a 200 nautical-mile Icelandic exclusive fishery zone.