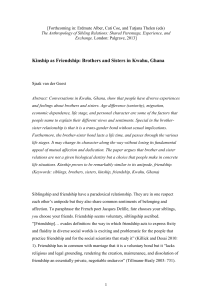 Brothers and Sisters in Kwahu, Ghana
... lively discussions among friends. Their answers, including detailed stories about childhood, adolescence and life after marriage, provided an extremely diverse picture. It all depended, most emphasised, on character and behaviour, on who happens to be around, and on age differences. Moreover, the En ...
Raksha Bandhan
Raksha Bandhan (Hindi: रक्षा बन्धन) is also called Rakhi Purnima (Rakhi Pournami) or simply Rakhi or ""Rakhri"", in many parts of India.The festival is a Hindu festival and is also a secular festival which celebrates the love and duty between brothers and sisters. The festival is also popularly used to celebrate any brother-sister relationship between men and women who are relatives or biologically unrelated.The festival is observed by Jains too, as a religious festival as on Raksha Bandhan, Jain priests give threads to devotees.The festival is also celebrated by many communities as a secular festival. This secular aspect is observed among all people, irrespective of their religion, in West Bengal and Punjab. Various fairs are held in Punjab to mark the occasion.On Raksha Bandhan, sisters tie a rakhi (sacred thread) on her brother's wrist. This symbolizes the sister's love and prayers for her brother's well-being, and the brother's lifelong vow to protect her. The festival falls on the full moon day (Shravan Poornima) of the Shravan month of the Hindu lunisolar Nepali calendar.Raksha Bandhan is primarily observed in India, Mauritius and major parts of Nepal. It is also celebrated by Hindus in parts of Pakistan, and by some Non Resident Indian people and Non Resident Nepali around the world.