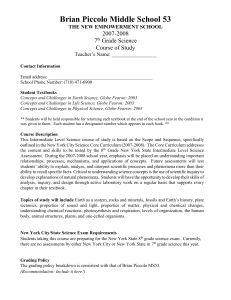 1 | Page - MS53QMath
... develop explanations of natural phenomena. Students will have the opportunity to develop their skills of analysis, inquiry, and design through active laboratory work on a regular basis that supports every chapter in their textbook. Topics of study will include Earth as a system, rocks and minerals, ...
John P. Grotzinger
John P. Grotzinger is the Fletcher Jones Professor of Geology at California Institute of Technology under the Division of Geological and Planetary Sciences. His works primarily focus on chemical and physical interactions between life and the environment. In addition to biogeological studies done on Earth, Grotzinger is also active in research into the geology of Mars and has made contributions to NASA's Mars Exploration Program.