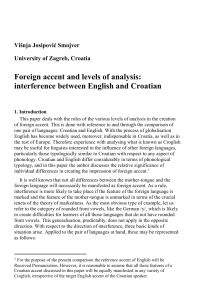 Višnja Josipović Smojver
... one pair of languages: Croatian and English. With the process of globalisation English has become widely used, moreover, indispensable in Croatia, as well as in the rest of Europe. Therefore experience with analysing what is known as Croglish may be useful for linguists interested in the influence o ...
Croatian literature
Croatian literature refers to literary works attributed to the medieval and modern culture of the Croats, Croatia and the Croatian language. Beside the modern language whose shape and orthography was standardized in the late 19th century, it also covers oldest works written in Croatian recension of Church Slavonic and Medieval Latin, as well as the vernacular works written in Čakavian and Kajkavian dialects.