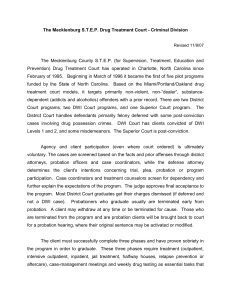 The Mecklenburg S - Mecklenburg County Bar
... are encouraged and assisted in obtaining help. There is a Smart Start grant and other help to meet the needs of client's children. Probation officers assist the court with drug tests, the supervision of the clients (home visits), transporting from custody to treatment, and executing orders for arres ...
Court show
A court show (also known as a judge show, legal/courtroom program, courtroom show, or judicial show) is a television programming subgenre of either legal dramas or reality legal programming. Court shows present content mainly in the form of legal hearings between plaintiffs and defendants presided over by a pseudo-judge. At present, these shows typically portray small claims court cases, produced in a simulation of a small claims courtroom inside of a television studio. The genre began in radio broadcasting in the 1930s and moved to television in the late 1940s, beginning with such TV shows as Court of Current Issues, Your Witness, Famous Jury Trials, etc. Court programming first arose in the United States and is still predominantly found in this country.Widely used techniques in court shows have been dramatizations and arbitration-based realities. The genre began with dramatizations and remained the technique of choice for roughly six decades. By the late 1990s, however, arbitration-based realities had overwhelmingly taken over as the technique of choice within the genre, the trend continuing into the present. Dramatizations were either fictional cases (often inspired from factual details in actual cases) or reenactments of actual trials. The role of the judge was often taken by a retired real-life judge, a law school professor or an actor. Arbitration-based realities, on the other hand, have typically involved litigants who have agreed to have their disputes aired on national television so as to be adjudicated by a television show ""judge."" Due to the forum merely being a simulated courtroom constructed within a television studio as opposed to a legitimate court of law, the shows' ""judges"" are actually arbitrators and what is depicted is a form of binding arbitration. The arbitrators presiding in modern court programs have had at least some legal experience, which is often listed as requirement by these programs.These television programs tend to air once or twice for every weekday as part of daytime television and often cost little to create (under $200,000 a week, where entertainment magazines cost five times that). Like talk shows, the procedure of court shows varies based upon the titular host. In most cases, they are first-run syndication programs. In 2001, the genre began to beat out soap operas in daytime television ratings. While all syndicated shows are steadily losing audiences, court shows have the slowest rate of viewer erosion. Accordingly, by the end of the 2000s, the number of court shows in syndication had, for the first time, equaled the number of talk shows. As reported in late 2012, court programming is the second highest-rated genre on daytime television. The genre's most formidable competitors in syndication have been the sitcom and game show genres.