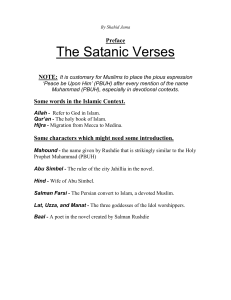 By Shahid Juma
... lastly, marriages specially contracted to cement the bonds of love with those who could by their position and influence be of service to Islam. Rushdie says that the Prophet had 12 wives. This is not true; rather he had 10 wives. However, he did not have 10 wives at one time. The limitation of the n ...
Knighthood of Salman Rushdie
In mid-June 2007 Salman Rushdie, British Indian novelist and author of controversial novel The Satanic Verses, was created a Knight Bachelor by Queen Elizabeth II. This action brought much controversy around the world in many countries with Muslim majority populations. Soon after the news of the knighthood was released protests against the honour were held in Malaysia and in Pakistan where effigies of the writer were publicly burnt. On 19 June 2007, governments in both Pakistan and Iran summoned their British ambassadors to officially protest against the award. While many groups and individuals have renewed the call to execute Rushdie, the author ""is not commenting on the latest threats to his life. It is understood he is anxious not to inflame the situation"". When asked by the Associated Press if his silence was at the request of the British government, Rushdie replied by e-mail stating ""The British authorities have not asked me to do or not do anything. I have simply chosen to remain out of this storm for the moment. And nobody is turning anything down."" The media noted in July 2007 that Rushdie ""has not been seen in public since the 16 June announcement of his knighthood."" However, he was photographed receiving his knighthood formally the next year at a ceremony which, breaking with tradition, did not announce in advance his attendance.