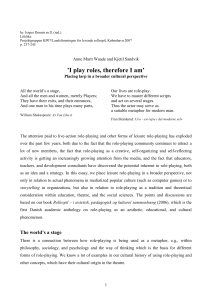 I play roles, therefore I am
... The conception of the world as a stage and human life being as transient as a play can be found not only in the writings of Shakespeare, but is also summed up in the concept Theatrum Mundi ('theatre of the world'), which is found as an idea as far back as ancient Greece in the thinking of, e.g., Pl ...
Slobbovia
Slobbovia was a postal Diplomacy variant played among science fiction and gaming fans in North America and Europe from 1972 to 1986. The game was published in Slobinpolit Zhurnal (Слобинполит Журнал).It was unique among postal games in that, through extension of the convention of ""press"" (referred to in the game as ""strakh"") prevalent in postal Diplomacy, characterization, plot development and good writing became as important as the actual gameplay itself, and actually influenced the latter.The resulting ""shared world,"" created through collaboration, cooperation and conflict, had a substantial, well-fleshed out infrastructure that developed its own rich set of traditions.