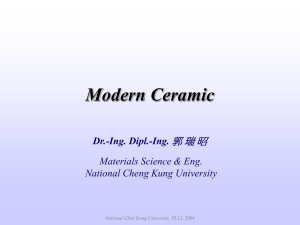 PowerPoint 簡報 - National Cheng Kung University
... The word ceramics, derives its name from the Greek keramos, meaning "pottery", which in turn is derived from an older Sanskrit Root, meaning "to burn". The Greeks used the term to mean "burned earth". Thus the word was used to refer to a product obtained through the action of fire upon earthy materi ...
Alfred University
Alfred University is a small, comprehensive university in the Village of Alfred, Allegany County in Western New York, USA, south of Rochester and southeast of Buffalo. Alfred has an undergraduate population of around 2,000, and approximately 300 graduate students. The institution has five schools and colleges.