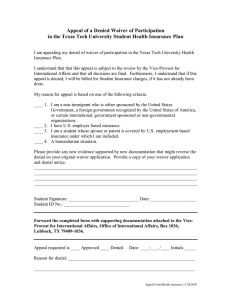 Appeal of a Denied Waiver of Participation
... I understand that that this appeal is subject to the review by the Vice-Provost for International Affairs and that all decisions are final. Furthermore, I understand that if this appeal is denied, I will be billed for Student Insurance charges, if it has not already been done. My reason for appeal i ...
Appeal procedure before the European Patent Office
The European Patent Convention (EPC), the multilateral treaty instituting the legal system according to which European patents are granted, contains provisions allowing a party to appeal a decision issued by a first instance department of the European Patent Office (EPO). For instance, a decision of an Examining Division refusing to grant a European patent application may be appealed by the applicant. The appeal procedure before the European Patent Office is under the responsibility of its Boards of Appeal, which are institutionally independent within the EPO.