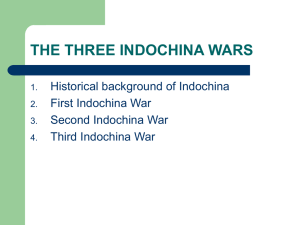 THE THREE INDOCHINA WARS
... Colonial occupation by French Japanese Occupation during World War II Home to indigenous insurgent movements Indochina Communist Party (ICP) launches war of liberation French fight communists after 1945 Communist struggle gets linked to Cold War ...
Võ Nguyên Giáp
Võ Nguyên Giáp (25 August 1911 – 4 October 2013) was a General in the Vietnam People's Army and a politician. He first grew to prominence during World War II, where he served as the military leader of the Viet Minh resistance against the Japanese occupation of Vietnam. Giap was a principal commander in two wars: the First Indochina War (1946–54) and the Vietnam War (1960–75). He participated in the following historically significant battles: Lạng Sơn (1950), Hòa Bình (1951–52), Điện Biên Phủ (1954), the Tết Offensive (1968), the Easter Offensive (1972), and the final Ho Chi Minh Campaign (1975).Giap was also a journalist, an interior minister in President Hồ Chí Minh's Việt Minh government, the military commander of the Viet Minh, the commander of the People's Army of Vietnam (PAVN), and defense minister. He also served as a member of the Politburo of the Vietnam Workers' Party, which in 1976 became the Communist Party of Vietnam.He was the most prominent military commander, beside Ho Chi Minh, during the Vietnam War, and was responsible for major operations and leadership until the war ended.