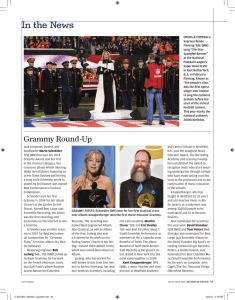 In the News Grammy Round-Up
... of the Year. Ludwig also won a Grammy for his work on the Rolling Stones' Charlie Is My Darling—Ireland 1965 (ABKCO Films), which was named Best Historical Album. Ludwig, who has worked for well-known artists from Jimi Hendrix to Barbra Streisand, has won four previous Grammys, including ...
My Beautiful Dark Twisted Fantasy
My Beautiful Dark Twisted Fantasy is the fifth studio album by American hip hop recording artist Kanye West, released on November 22, 2010, through Roc-A-Fella Records. Following a period of legal and public image controversy, West took a short hiatus from his music career. During a ""self-imposed exile"" to Hawaii, he conceived the project; West subsequently worked on it through a communal development that involved him and other musicians and producers contributing collectively to its music between 2009 and 2010. Production was handled by West and several other record producers, including Jeff Bhasker, RZA, No I.D., and Mike Dean, among others. The album's original cover art was designed by George Condo and rejected by some retail outlets; it features a presumably naked West being straddled by a nude winged female, with a spotted tail protruding from her buttocks.Noted by music writers for its varied elements, My Beautiful Dark Twisted Fantasy incorporates musical components from West's previous works, including soul, baroque, electro, and symphonic elements. The album deals with themes of excess and celebrity, with transparent lyrics expressing emotional extremes, ego, uncertainty, and references to drinking and drug use. Its subject matter also explores consumer culture, race, and the idealism of the American Dream. A short film set to the album's content, Runaway, preceded the album's release. My Beautiful Dark Twisted Fantasy was promoted with free songs released through West's GOOD Fridays series and four singles, including Billboard hits ""Power"", ""Monster"", and ""Runaway"", and the international hit ""All of the Lights"".Debuting at number one in the US, the album sold 496,000 copies and spent 32 weeks on the Billboard 200 chart, also charting within the top 10 in several other countries. Upon its release, My Beautiful Dark Twisted Fantasy received rave reviews from music critics, earning a rare score of 94 on review aggregator Metacritic. Multiple critics called it West's best work; its ambitious musical range, opulent production style, and dichotomous themes were all subjects of praise. In year-end lists, a strong majority of critics ranked the album the best of 2010. Since its release, publications have placed My Beautiful Dark Twisted Fantasy on their lists of the greatest albums ever made.