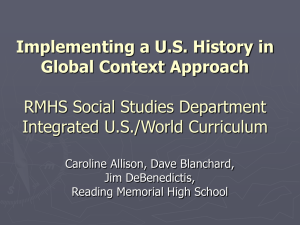 RMHSIntegratedCurriciculumPresentationOct27
... Grade 8: World History I, 500-1500 Grade 9: World History II, 1500-1800 Grade 10: U.S. History I, 1763-1877 Grade 11: U.S. History II, 1877-2000 Grade 12: World History III, 1800-2001 ...
Australian Army Training Team Vietnam
The Australian Army Training Team Vietnam (AATTV) was a specialist unit of the Australian Army that operated during the Vietnam War. Raised in 1962, the unit was raised solely for service as part of Australia's contribution to the war in Vietnam, providing training and assistance to South Vietnamese forces. It is believed to be the most decorated Australian unit to serve in Vietnam with members of the unit receiving over 100 decorations, including four Victoria Crosses, while it was in existence. The unit was withdrawn from Vietnam on 18 December 1972 and was disbanded in Australia on 16 February 1973.