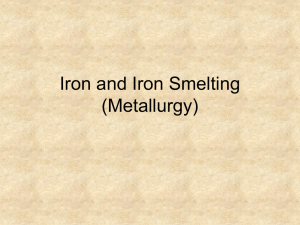 Iron - University of Minnesota Duluth
... • Most widely used metal accounting for 95% of all metal produced worldwide. • Key ingredient in structural materials (e.g. steel) due to availability, low cost, high strength. • Essential ingredient in hemoglobin in blood; for oxygen transport in body. Also in numerous enzymes. ...
Iron metallurgy in Africa
The topic Iron metallurgy in preindustrial sub-Saharan Africa encompasses both studies of the technology and archaeology of indigenous iron production, and also an understanding of the role that iron production played in African societies before European colonization of the subcontinent.