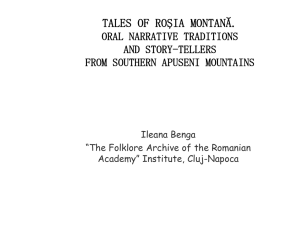 tales of roşia montană. oral narrative traditions and story
... of'culturi folklorice'(folkloric cultures). His meaning is precise and rather narrow: it assembles societies who share sameness in the following traits: rurality, oral traditions, temporal layer of existence, potential and often proven continuum inter se. For example, we may speak of folkloric cultu ...
Folklore
Folklore can be described as traditional art, literature, knowledge, and practices that are passed on in large part through oral communication and example. The information thus transmitted expresses the shared ideas and values of a particular group. British antiquarian William Thoms is generally credited with coining the term ""folklore"" in 1846. As an academic discipline folklore shares methods, and insights with literature, anthropology, art, music, history, linguistics, philosophy, and mythology. Elliott Oring states thatfolklore is that part of culture that lives happily ever after. Folkloristics is the academic study of folklore.