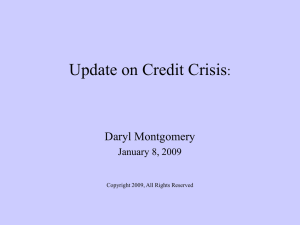 Update Credit Crisis Jan 09
... • Marc Drier, head of 250-member New York law firm arrested for investor fraud on Dec 8. • Accused of forgery, selling fake financial instruments, false financial statements. • Hedge funds bought the fake notes. • Drier's legal associates have allegedly been involved in even bigger frauds. • Escrow ...
Bernard Madoff
Bernard Lawrence ""Bernie"" Madoff (/ˈmeɪdɒf/; born April 29, 1938) is an American swindler convicted of fraud and a former stockbroker, investment advisor, and financier. He is the former non-executive chairman of the NASDAQ stock market, and the admitted operator of a Ponzi scheme that is considered to be the largest financial fraud in U.S. history.Madoff founded the Wall Street firm Bernard L. Madoff Investment Securities LLC in 1960, and was its chairman until his arrest on December 11, 2008. The firm was one of the top market maker businesses on Wall Street, which bypassed ""specialist"" firms by directly executing orders over the counter from retail brokers. He employed at the firm his brother Peter, as Senior Managing Director and Chief Compliance Officer; Peter's daughter Shana Madoff, as the firm's rules and compliance officer and attorney; and his sons Andrew and Mark. Peter has since been sentenced to 10 years in prison and Mark committed suicide by hanging exactly two years after his father's arrest. Andrew died of lymphoma on September 3, 2014.On December 10, 2008, Madoff's sons told authorities that their father had confessed to them that the asset management unit of his firm was a massive Ponzi scheme, and quoted him as describing it as ""one big lie"". The following day, FBI agents arrested Madoff and charged him with one count of securities fraud. The U.S. Securities and Exchange Commission (SEC) had previously conducted investigations into Madoff's business practices, but had not uncovered the massive fraud.On March 12, 2009, Madoff pleaded guilty to 11 federal felonies and admitted to turning his wealth management business into a massive Ponzi scheme. The Madoff investment scandal defrauded thousands of investors of billions of dollars. Madoff said he began the Ponzi scheme in the early 1990s. However, federal investigators believe the fraud began as early as the mid-1980s and may have begun as far back as the 1970s. Those charged with recovering the missing money believe the investment operation may never have been legitimate. The amount missing from client accounts, including fabricated gains, was almost $65 billion. The SIPC trustee estimated actual losses to investors of $18 billion. On June 29, 2009, Madoff was sentenced to 150 years in prison, the maximum allowed.