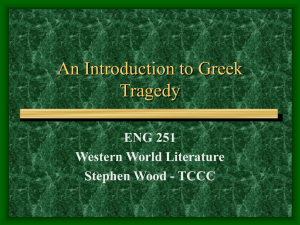 An Introduction to Greek Tragedy
... An Athenian tyrant, Pisistratus first seized power in 561; in 546 he gained firm control over Athens. A benevolent ruler for the most part (to the Greeks, a tyrant was a man who seized power, no matter how fairly or unfairly he wielded that power), Pisistratus instituted the festivals honoring Diony ...
Dionysiaca
The Dionysiaca (Greek: Διονυσιακά) is an ancient epic poem and the principal work of Nonnus. It is an epic in 48 books, the longest surviving poem from antiquity at 20,426 lines, composed in Homeric dialect and dactylic hexameters, the main subject of which is the life of Dionysus, his expedition to India, and his triumphant return to the west.