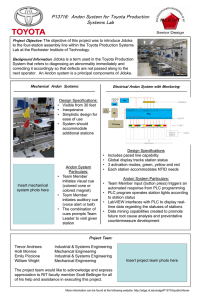 display - EDGE - Rochester Institute of Technology
... Background Information: Jidoka is a term used in the Toyota Production System that refers to diagnosing an abnormality immediately and correcting it accordingly so that defects are not passed along to the next operator. An Andon system is a principal components of Jidoka. ...
Systems development life cycle
The systems development life cycle (SDLC), also referred to as the application development life-cycle, is a term used in systems engineering, information systems and software engineering to describe a process for planning, creating, testing, and deploying an information system. The systems development life-cycle concept applies to a range of hardware and software configurations, as a system can be composed of hardware only, software only, or a combination of both.