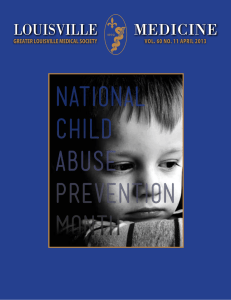 LouisviLLe Medicine - Greater Louisville Medical Society
... physicians, therapists and trainers can help you get back in action and perform at your best. It's complete sports medicine including performance training, orthopedic surgery and an advanced facility with private treatment rooms, gym and an indoor turf field. To take your patients' game to the next ...
University of Louisville
The University of Louisville (UofL) is a public university in Louisville, Kentucky, a member of the Kentucky state university system. When founded in 1798, it was the first city-owned public university in the United States and one of the first universities chartered west of the Allegheny Mountains. The university is mandated by the Kentucky General Assembly to be a ""Preeminent Metropolitan Research University"". UofL enrolls students from 118 of 120 Kentucky counties, all 50 U.S. states, and 116 countries around the world.The University of Louisville School of Medicine is touted for the first fully self-contained artificial heart transplant surgery as well as the first successful hand transplantation. The University Hospital is also credited with the first civilian ambulance, the nation's first accident services, now known as an emergency room (ER), and one of the first blood banks in the US.Between 1999 and 2006 UofL was one of the fastest growing medical research institutions according to National Institutes of Health rankings. As of 2006, the melanoma clinic ranked third in among public universities in NIH funding, the neurology research program fourth, and the spinal cord research program 10th.UofL is also known for its athletics programs, several of which are among the most successful in the country. Since 2005 the Cardinals have made appearances in the NCAA Division I men's basketball Final Four in 2005, 2012, and 2013 (champions), football Bowl Championship Series Orange Bowl in 2007 (champions) and Sugar Bowl in 2013 (champions), the College Baseball World Series 2007, 2013, and 2014, the women's basketball Final Four in 2009 (runner-up) and 2013 (runner-up), and the men's soccer national championship game in 2010. UofL's women's volleyball program has three-peated as champions of the Big East Tournament (2008, 2009, 2010), and its women's track and field program has won Outdoor Big East titles in 2008, 2009 and 2010 and an Indoor Big East title in 2011.