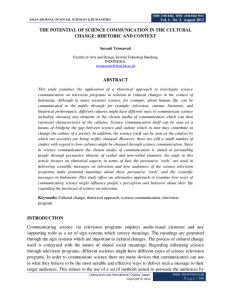 Full Paper - Asian Journal of Social Sciences and Humanities (AJSSH)
... means and a medium through which we form knowledge about ourselves and the social world. In turn, science communication, with the assistance of language, might construct meanings. In this context the process of constructing meanings can be seen as a dialogue between scientists, policy makers, and co ...
Social aspects of television
The social aspects of television are influences this medium has had on society since its inception. The belief that this impact has been dramatic has been largely unchallenged in media theory since its inception. However, there is much dispute as to what those effects are, how serious the ramifications are and if these effects are more or less evolutionary with human communication.