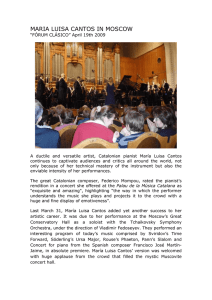 maria luisa cantos in moscú
... music. Since she settled herself on Swiss soil in 1972, she came to realize how little the Iberian repertoire was known in the land of Guillermo Tell thus she took it upon herself to fill that void. For the past three decades she has totally and absolutely devoted her body and soul to spread the Spa ...
Spanish naming customs
Spanish naming customs are historical traditions for naming children practised in Spain. They are similar to those in other Spanish-speaking countries or former Spanish territories, such as Equatorial Guinea, Philippines, México, and Puerto Rico. In Spain, a person's name consists of a given name (simple or composite) followed by two family names (surnames). The first surname is usually the father's first surname, and the second the mother's first surname. In recent years, the order of the surnames can be reversed at birth if it is so decided by the parents.Often, the practice is to use one given name and the first surname only, the full name being used in legal, formal, and documentary matters. For differences in Hispanic American usages, see Hispanic American naming customs.