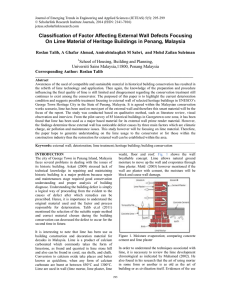 article - Journal of Emerging Trends in Engineering and
... necessary to lay at least three to five layers of unpigment lime wash and addition of two more layers for pigment colour. However, when dealing with impropriate material embedded to the historic building, especially the uses of cement; first, determine the ratio mix of the cement, if the lime to cem ...
Fresco
Fresco (plural frescos or frescoes) is a technique of mural painting executed upon freshly-laid, or wet lime plaster. Water is used as the vehicle for the pigment to merge with the plaster, and with the setting of the plaster, the painting becomes an integral part of the wall. The word fresco (Italian: affresco) is derived from the Italian adjective fresco meaning ""fresh"", and may thus be contrasted with fresco-secco or secco mural painting techniques, which are applied to dried plaster, to supplement painting in fresco. The fresco technique has been employed since antiquity and is closely associated with Italian Renaissance painting.