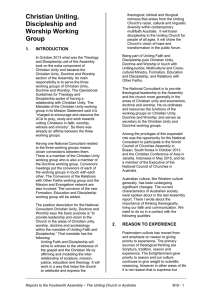 Christian Uniting, Discipleship and Worship Working Group
... churches like ours have tended to be wordy and limited the use of visuals. This is changing. Yet it is not just a matter of banners, digital projectors and other visuals being used. Words themselves can convey images when they appeal to the imagination. Good preaching has always recognised the impor ...
Local Church controversies
The local churches and the ministry of Watchman Nee and Witness Lee have been the subject of controversy in two major areas over the past fifty years. To a large extent these controversies stem from the rapid increase and spread of the local churches in the United States in the 1960s and early 1970s. In the 1970s they became a target of opposition of fledgling countercult ministries. Unsupported criticisms of anti-social behaviors led to three libel litigations. In addition, some criticized the teaching of Witness Lee on the nature of God, God's full salvation, and the church.