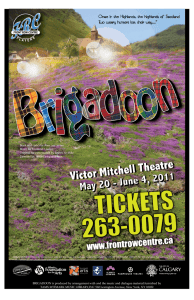 BRIGADOON is produced by arrangement with and the music and
... this project has been truly amazing, from hours of hammering out harmonies that seem completely unnatural, to playing around with the right way to push each other out of the way without actually breaking someone's neck, you've given it your all and it's more than paid off. Remember… silent milling! ...
Brigadoon
Brigadoon is a musical with a book and lyrics by Alan Jay Lerner and music by Frederick Loewe. Songs from the musical such as ""Almost Like Being in Love"" have become standards. The story involves two American tourists who stumble upon Brigadoon, a mysterious Scottish village which appears for only one day every hundred years. Tommy, one of the tourists, falls in love with Fiona, a young woman from Brigadoon.The original production opened on Broadway in 1947 and ran for 581 performances. It starred David Brooks, Marion Bell, Pamela Britton, and Lee Sullivan. Brigadoon then received a West End production opening in 1949 that ran for 685 performances, and many revivals followed. A 1954 film version starred Gene Kelly and Cyd Charisse. A 1966 television version starred Robert Goulet and Peter Falk.