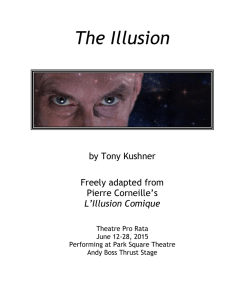 The Illusion - Theatre Pro Rata
... performed at the Hôtel de Bourgogne that year and was published in 1639. The story begins with Pridamant, a man who desperately seeks to find out the fate of his son, who had left home some years before. He approaches a magician, Alcandre, whom he hopes will be able to help him. Alcandre's remarkabl ...
Sawing a woman in half
Sawing a woman in half is a generic name for a number of stage magic tricks in which a person (traditionally a female assistant) is apparently sawn or divided into two or more pieces.