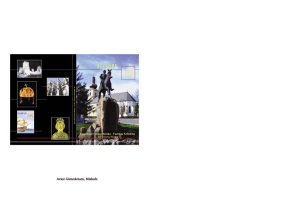 history 10 belso jav 2011_history 10 belso jav 2008.09.qxd
... the origins of the name 'Ungaren, Hungarie' referring to the name Onogur = ten tribes of Bulgar-Turks having connections with the Magyars around 680. It seems to solve the origins of the 'székely' peoples who are supposed to have arrived in Transylvania during the first conquest. Slavs and Franks al ...
History of Christianity in Slovakia
The beginnings of the history of Christianity in Slovakia can most probably be traced back to the period following the collapse of the Avar Empire at the end of the 8th century. Slavic principalities emerged in the territories that had up to that time been under Avar control, and in time their rulers were ready to accept Christianity. The first Christian church erected in Slavic lands seems to have been the one consecrated for a local ruler named Pribina in Nitra around 830. The second half of the 9th century witnessed the first flourishing of Christian culture in the territories what now form Slovakia when the ""Apostles of the Slavs"", Cyril and Methodius were active in ""Great"" Moravia, an early medieval Slavic empire in Central Europe. They translated sacred and liturgical texts, and introduced Old Church Slavonic into the liturgy. Although their disciples were expelled from Moravia after 885, the ""Slavic liturgy"" had an enduring effect on the Slavic peoples.In the course of the 11th century, the plains north of the river Danube and the territories covered by the Western Carpathian Mountains were gradually incorporated into the multiethnic medieval Kingdom of Hungary. Here three Roman Catholic dioceses, many monasteries and other ecclesiastic institutions were established in the Middle Ages. In this period the Church had many responsibilities that are now assumed by state authorities (for instance, it administered schools and social institutions, and took part in royal administration), thus it was richly endowed with landed properties and other sources of income.Among the early movements for Church Reform, the presence of Waldensians can be detected in the 14th century. Although significant parts of Slovakia were dominated by Czech Hussite soldiers in the middle of the 15th century, their behaviour (they were engaged mainly in plundering) seems to have not won them many supporters. The ideas of the 16th-century Reformation first spread among the German-speaking inhabitants of the towns, but in the middle of the century many Slovaks also embraced the Lutheran version of Protestantism. In contrast with them, a significant part of the local Hungarians became adherent to the more radical theology of Calvinism.