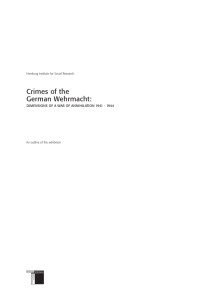 Crimes of the German Wehrmacht
... The German Wehrmacht's war against the Soviet Union differed from all other European wars of the modern era, including the campaigns waged by the Wehrmacht against other countries during World War II. This was a war directed not only against another army, but against parts of the civilian population ...
Soviet partisans
The Soviet partisans were members of a resistance movement that fought a guerrilla war against the Axis occupation of the Soviet Union during World War II.The movement was coordinated and controlled by the Soviet government and modeled on that of the Red Army. The primary objective of the guerrilla warfare waged by the Soviet partisan units was the disruption of the Eastern Front's German rear, especially road and rail communications. There were also regular military formations, also called partisans, that were used to conduct long-range reconnaissance patrol missions behind Axis lines from bases within Soviet-held territory.