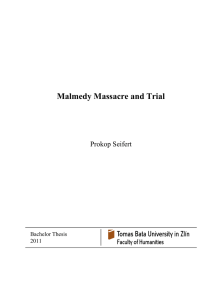 Šablona -- Diplomová práce
... the Battle of the Bulge during World War II. What is now referred to as the Malmedy Massacre took place on Sunday, December 17th, 1944. Around 120 U.S. soldiers were taken prisoner and 86 were shot to death by German soldiers of the First SS-Panzer Regiment at Baugnez crossroad. News of the incident ...
Malmedy massacre
The Malmedy massacre (1944) refers specifically to a war crime in which 84 American prisoners of war were murdered by their German captors near Malmedy, Belgium, during World War II. The massacre was committed on December 17, 1944, at Baugnez crossroads, by members of Kampfgruppe Peiper (part of the 1st SS Panzer Division), a German combat unit, during the Battle of the Bulge.The term also applies generally to the whole series of massacres committed by the same unit on the same day and following days, which were the subject of the Malmedy massacre trial, part of the Dachau Trials of 1946. The trials were the focus of some controversy.