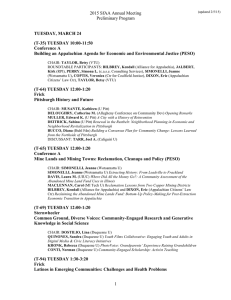 Preliminary Program 2015 (updated 2/5/15)
... Associated with Fracking: Mapping Hydrogen Sulfide with Photographic Paper MALONE, Samantha (FracTracker Alliance) FracTracker Grassroots Oil and Gas Data Collection MATZ, Jacob and WYLIE, Sara (Northeastern U) Speck: Low-Cost Air Monitoring for Individual and Community Action in the Marcellus Shale ...
Chair
A chair is a piece of furniture with a raised surface commonly used to seat a single person. Chairs are supported most often by four legs and have a back; however, a chair can have three legs or could have a different shape. Chairs are made of a wide variety of materials, ranging from wood to metal, and they may be padded or upholstered, either just on the seat or on the entire chair (e.g., with a La-Z-Boy chair). Chairs are used in a number of rooms in homes (e.g., in living rooms, dining rooms and dens), in schools and offices (with desks) and in various other workplaces.A chair without a back or arm rests is a stool, or when raised up, a bar stool. A chair with arms is an armchair and with upholstery, reclining action and a fold-out footrest, a recliner. A permanently fixed chair in a train or theater is a seat or, in an airplane, airline seat; when riding, it is a saddle and bicycle saddle, and for an automobile, a car seat or infant car seat. With wheels it is a wheelchair and when hung from above, a swing.An upholstered, padded chair for more than one person is a couch, sofa, settee, or ""loveseat""; or if is not upholstered, a bench. A separate footrest for a chair, usually upholstered, is known as an ottoman, hassock or pouffe.