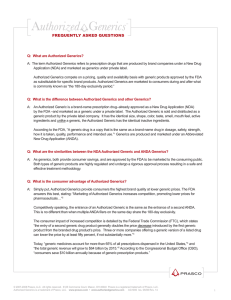 FREQUENTLY ASKED QUESTIONS
... Mylan - Mylan Reverses Authorized Generics Stance, Says It Intends to Participate in That Market "It is Mylan's intention, going forward, to participate in the Authorized Generics market, as appropriate," Robert J. Coury, Mylan's vice chairman and chief executive officer said.21 The Hatch-Waxman leg ...
Mylan
Mylan N.V. is a global generic and specialty pharmaceuticals company registered in the Netherlands and with operational headquarters in Hatfield, Hertfordshire in the United Kingdom. In 2007, Mylan acquired a controlling interest in India-based Matrix Laboratories Limited, a top producer of active pharmaceutical ingredients (APIs) for generic drugs, and the generics business of Germany-based Merck KGaA. Through these acquisitions, Mylan has grown from the third-largest generic and pharmaceuticals company in the United States to the second-largest generic and specialty pharmaceuticals company in the world. Mylan now has approximately 30,000 employees, more than 1,000 separate products, and serves customers in more than 150 countries and territories. Mylan has a global manufacturing output of more than 45 billion doses.