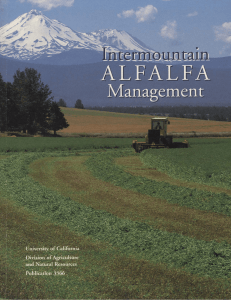 Intermountain Alfalfa Management - Siskiyou County Cooperative
... of 8 tons per acre or higher have been obtained on more productive soils under good management. Total seasonal production is relatively low, but individual cuttings of 2 to 3 tons per acre are common. Stand life is long—typically 6 to 8 years. The Intermountain Region is known for high-quality alfal ...
Alfalfa
Alfalfa /ælˈfælfə/, Medicago sativa, also called lucerne, is a perennial flowering plant in the pea family Fabaceae cultivated as an important forage crop in many countries around the world. The name alfalfa is used in North America. The name lucerne is the more commonly used name in the United Kingdom, South Africa, Australia, and New Zealand. It superficially resembles clover, with clusters of small purple flowers followed by fruits spiralled in 2 to 3 turns containing 10-20 seeds. Alfalfa is native to warmer temperate climates. It has been cultivated as livestock fodder since at least the era of the ancient Greeks and Romans.