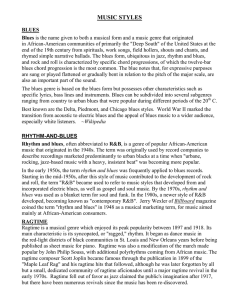 MUSIC STYLES
... recorded in the mid-1950s by white singers such as Elvis Presley, Carl Perkins and Jerry Lee Lewis, who drew mainly on the country roots of the music. Many other popular rock and roll singers of the time, such as Fats Domino and Little Richard, came out of the black rhythm and blues tradition, makin ...
Origins of rock and roll
Rock and roll emerged as a defined musical style in the United States in the early to mid-1950s. It derived most directly from the rhythm and blues music of the 1940s, which itself developed from earlier blues, boogie woogie, jazz and swing music, and was also influenced by gospel, country and western, and traditional folk music. Rock and roll in turn provided the main basis for the music that, since the mid-1960s, has been generally known as rock music.The phrase rocking and rolling originally described the movement of a ship on the ocean, but was used by the early twentieth century, both to describe a spiritual fervor and as a sexual analogy. Various gospel, blues and swing recordings used the phrase before it became used more frequently – but still intermittently – in the late 1930s and 1940s, principally on recordings and in reviews of what became known as rhythm and blues music aimed at a black audience. In 1951, Cleveland-based disc jockey Alan Freed began playing this music style while popularizing the term rock and roll to describe it.Various recordings that date back to the 1940s have been named as the first rock and roll record, including the frequently cited 1951 song ""Rocket 88"", although some have felt it is too difficult to name one record. Bill Haley's ""Rock Around the Clock"" is often cited as the first rock and roll record to achieve significant commercial success and was joined in 1955 by a number of other records that pioneered the genre.