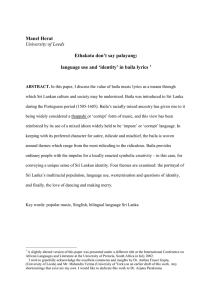 language use and - English, Comparative Literature, and Linguistics
... are unidirectional from English to Sinhala or Singlish which is, as a linguistic system, more Sinhala than English based, i.e. Singlish would show a higher proportion of Sinhala phrases and sentences than English ones. In other words Singlish is a sub-variety of Sinhala, not a sub variety of English ...
Singlish
Colloquial Singaporean English, better known as Singlish, is an English-based creole language spoken in Singapore.While English is one of Singapore's official languages, Singlish (a particular dialect with its unique intonations and grammar) is commonly regarded as having low prestige. The Singaporean government and many upper class Singaporeans alike heavily discourage the use of Singlish in favour of Standard English and Standard Mandarin. The government has created an annual Speak Good English Movement to emphasise the point. Singlish is also heavily discouraged in the mass media and in schools. However, such official discouragement and routine censorship is actually countered by other presentations in the ""official"" mainstream media, including routine usage by ordinary people in street interviews broadcast on TV and radio on a daily basis, and occasional usage in newspapers.The vocabulary of Singlish consists of words originating from English, Malay, Hokkien, Teochew, Cantonese, Tamil and to a lesser extent various other European, Indic and Sinitic languages. Also, elements of American and Australian slang have come through from imported television series and films.