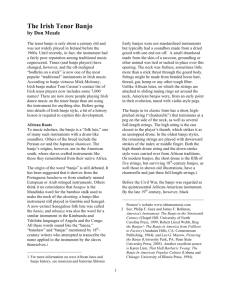 The Irish Tenor Banjo - Blarney Star Productions
... other animal was tied or tacked in place over this opening. The neck was fretless, sometimes little more than a stick thrust through the gourd body. Strings might be made from braided horse hair, thread, gut, hemp or any other tough fiber. Unlike African lutes, on which the strings are attached to s ...
String instrument
String instruments, stringed instruments, or chordophones are musical instruments that produce sound from vibrating strings. In most string instruments, the vibrations are transmitted to the body of the instrument, which also vibrates, along with the air inside it. In the Hornbostel-Sachs scheme of musical instrument classification, used in organology, they are called chordophones. Common instruments in the string family include the violin, guitar, sitar, electric bass, viola, cello, harp, double bass, rebab, banjo, mandolin, ukulele, and bouzouki.