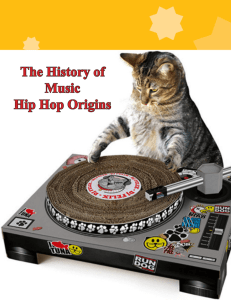 The History of Music Hip Hop Origins
... Hip hop arose during the 1970s when block parties became increasingly popular in New York City, particularly in the Bronx, where African American and Puerto Rican influences combined. Block parties incorporated DJs who played popular genres of music, especially funk and soul music. Due to the posit ...
The Chronic
The Chronic is the debut studio album by American hip hop recording artist Dr. Dre. It was released on December 15, 1992, by his own record label Death Row Records and distributed by Priority Records. Recording sessions for the album took place in June 1992 at Death Row Studios in Los Angeles and at Bernie Grundman Mastering in Hollywood. The album is named after a slang term for high-grade cannabis, and its cover is a homage to Zig-Zag rolling papers. It was Dr. Dre's first solo album after he had departed from hip hop group N.W.A and its label Ruthless Records over a financial dispute. On The Chronic, he included both subtle and direct insults at Ruthless and its owner, former N.W.A member Eazy-E. Although a solo album, it features many appearances by Snoop Dogg, who used the album as a launch pad for his own solo career.Upon its release, The Chronic received generally positive reviews from music critics and earned considerable commercial success. The album peaked at number three on the Billboard 200 and had been certified triple platinum by the Recording Industry Association of America with sales of 5.7 million copies in the United States, which led to Dr. Dre becoming one of the top ten best-selling American performing artists of 1993. Dr. Dre's production has been noted for popularizing the G-funk subgenre within gangsta rap. The Chronic has been widely regarded as one of the most important and influential albums of the 1990s and regarded by many fans and peers to be one of the most well-produced hip hop albums of all time.