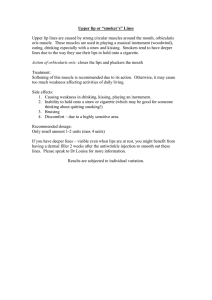 Upper lip or "smoker`s" Lines
... Upper lip lines are caused by strong circular muscles around the mouth, orbicularis oris muscle. These muscles are used in playing a musical instrument (woodwind), eating, drinking especially with a straw and kissing. Smokers tend to have deeper lines due to the way they use their lips to hold onto ...
Kiss
Depending on the culture and context, a kiss can express sentiments of love, passion, romance, sexual attraction, sexual activity, sexual arousal, affection, respect, greeting, friendship, peace and good luck, among many others. In some situations a kiss is a ritual, formal or symbolic gesture indicating devotion, respect, or sacrament. The word came from Old English cyssan ("to kiss"), in turn from coss ("a kiss").