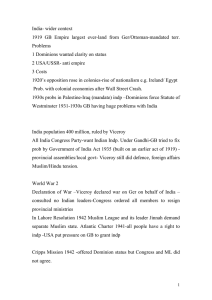 India- wider context 1919 GB Empire largest ever
... wave of mass immigration. Most of these were Portuguese, Arabs and North Africans. The high level of immigrants coming to France continued up until the late 1970s. In October 1973, members of the Organisation of Arab Petroleum Exporting Countries (or OAPEC) proclaimed an oil embargo. The embargo, wh ...
Social situation in the French suburbs
The word banlieue, which is French for ""suburb,"" does not necessarily refer to an environment of social disenfranchisement. Indeed there exist many wealthy suburbs, such as Neuilly-sur-Seine (the wealthiest commune of France) and Versailles outside Paris. Nevertheless, the term banlieues has often been used to describe troubled suburban communities—those with high unemployment, high crime rates, and frequently, a high proportion of residents of foreign origin mainly from former French African colonies and therefore Berbers, Blacks and Arabs.