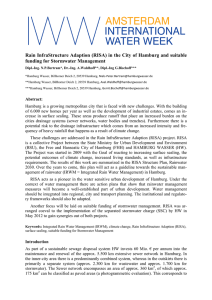 Rain InfraStructu funding for Storm Rain InfraStructure Adapt
... In the area of ,,Inland Flood Protection'' hazard and damage maps were created. The Hazard and Damage Maps were created to estimate the flood risk to infrastructure objects. This information shall contribute towards the cooperation between administration, planners and more importantly property owner ...
Water-sensitive urban design
Water-sensitive urban design (WSUD) is a land planning and engineering design approach which integrates the urban water cycle, including stormwater, groundwater and wastewater management and water supply, into urban design to minimise environmental degradation and improve aesthetic and recreational appeal. WSUD is a term used in the Middle East and Australia and is similar to low-impact development (LID), a term used in the United States; and sustainable urban drainage systems (SUDS), a term used in the United Kingdom.