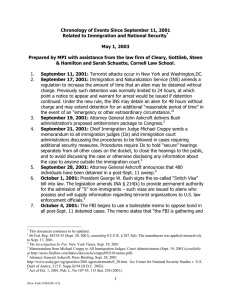 1 Chronology of Events Since September 11, 2001 Related to
... with crimes arising from the Sept. 11 investigation. Most of the charges are for violations such as credit card fraud or making false statements on passport applications. Mr. Ashcroft also releases a list of 548 people, including their nationalities, dates of birth, and the charges against them (but ...
United States v. Khalid Sheikh Mohammed
United States v. Khalid Sheikh Mohammed, et al. is the upcoming trial of five alleged Al-Qaeda members for aiding the September 11, 2001 attacks. Charges were announced by Brigadier General Thomas W. Hartmann on February 11, 2008 at a press conference at the Pentagon. The men charged are Khalid Sheikh Mohammed, Mohammed al Qahtani, Ramzi bin al-Shibh, Ammar al-Baluchi, and Mustafa al-Hawsawi.