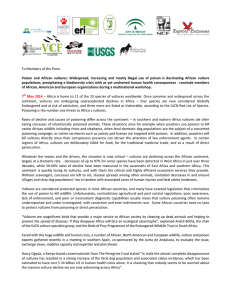 Poison and African vultures
... native African wildlife including rhino and elephants, when feral domestic dog populations are the subject of a concerted poisoning campaign, or native carnivores such as jackals and hyenas are targeted with poisons. In addition, poachers will kill vultures directly since their conspicuous presence ...
International Anti-Poaching Foundation
The International Anti-Poaching Foundation (IAPF) is a non-profit organisation registered in Australia, predominately operating on the African continent. The group has a structured military-like approach to conservation, employing tactics and technology generally reserved for the modern-day battlefield.