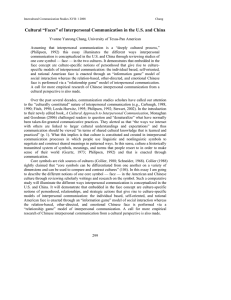 Cultural "Faces" of Interpersonal Communication in the U.S. and China
... know in advance what he [sic] will expect of them and what they may expect of him [sic]. Informed in these ways, the others will know how best to act in order to call forth a desirable response from him [sic] (Goffman, 1959, p. 1). The conscious individual controls information issuance—he or she dec ...
Face (sociological concept)
The term face idiomatically refers to one's own sense of dignity or prestige in social contexts. In the English-speaking world, the expression ""To save face"" describes the lengths that an individual may go to in order to preserve their established position in society, taking action to ensure that one is not thought badly of by their peers. It is a fundamental concept in the fields of sociology, sociolinguistics, semantics, politeness theory, psychology, political science, communication, and face negotiation theory, and translates at least somewhat equivalently into many world languages, both Germanic and otherwise.