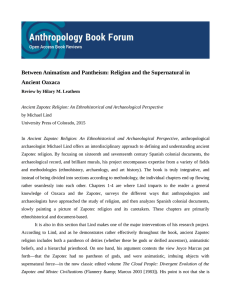 Between Animatism and Pantheism: Religion and the Supernatural
... problem to task—that is, the problem of the temple. Not only does Lind seek to understand the place of temples in Zapotec religious life, but he also aims to parse out the distinction between Zapotec palaces and temples (116). "Nothing is ever easy in archaeology, and this is especially true when tr ...
Zapotec languages
The Zapotec /ˈzæpətɛk/ languages are a group of closely related indigenous Mesoamerican languages that constitute a main branch of the Oto-Manguean language family and which is spoken by the Zapotec people from the southwestern-central highlands of Mexico. The 2010 Mexican census reports 425,000 speakers, with the majority inhabiting the state of Oaxaca. Zapotec-speaking communities are also found in the neighboring states of Puebla, Veracruz, and Guerrero. Labor migration has also brought a number of native Zapotec-speakers to the United States, particularly in California and Bridgeton, New Jersey. Most Zapotec speaking communities are highly bilingual in Spanish.