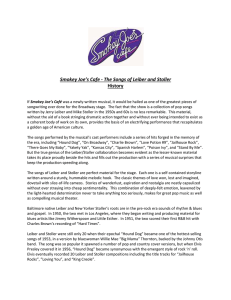 Smokey Joe`s Cafe - The Songs of Leiber and Stoller History
... Baltimore native Leiber and New Yorker Stoller's roots are in the pre-rock era sounds of rhythm & blues and gospel. In 1950, the two met in Los Angeles, where they began writing and producing material for blues artists like Jimmy Witherspoon and Little Esther. In 1951, the two scored their first R&B ...
The Muppets (film)
The Muppets is a 2011 American musical comedy film and the seventh theatrical film featuring the Muppets. The film is directed by James Bobin, written by Jason Segel and Nicholas Stoller, produced by David Hoberman and Todd Lieberman, and stars Jason Segel, Amy Adams, Chris Cooper and Rashida Jones, as well as Muppet performers Steve Whitmire, Eric Jacobson, Dave Goelz, Bill Barretta, David Rudman, Matt Vogel, and Peter Linz. The film's score was composed by Christophe Beck, while Flight of the Conchords member Bret McKenzie served as music supervisor, writing four of the film's five original songs. In The Muppets, devoted fan Walter, his brother Gary, and Gary's girlfriend Mary, help Kermit the Frog reunite the Muppets, as they must raise $10 million to save the Muppet Theater from Tex Richman, a businessman who plans to demolish the studio to drill for oil.Walt Disney Pictures originally announced the film's development in March 2008, with Segel and Stoller writing the screenplay, and Mandeville Films co-producing the film. Bobin was hired to direct in January 2010, and the film's supporting cast was filled out in October of the same year, with the casting of Adams, Cooper, and Jones. Filming began in September 2010 and was completed entirely in Los Angeles, California. The film was the first theatrical Muppet production without the involvement of veteran Muppet performers Frank Oz and Jerry Nelson, although Nelson provides an uncredited vocal cameo. Instead, their characters are performed by Jacobson and Vogel, respectively, marking their theatrical feature film debut as those characters.The Muppets premiered at the 2011 Savannah Film Festival and was released theatrically in North America on November 23, 2011. The film was both critically and commercially successful; grossing $165 million worldwide against a $45 million budget, and earning praise for its humor, characterization, and soundtrack. The film won an Academy Award for Best Original Song for McKenzie's ""Man or Muppet"", as well as garnering BAFTA, Grammy Award and Critic's Choice Awards nominations. A sequel, Muppets Most Wanted, was released on March 21, 2014.