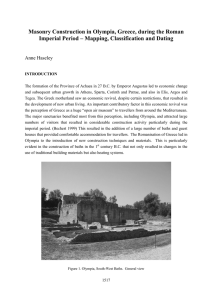 Masonry Construction in Olympia, Greece, during the Roman
... THE SITUATION IN OLYMPIA Olympia's public infrastructure includes a large number of buildings which were erected during the imperial period. They are characterised by a number of different construction materials and techniques. This paper focuses on these differences and in particular on the use of ...
Sentō
Sentō (銭湯) is a type of Japanese communal bath house where customers pay for entrance. Traditionally these bath houses have been quite utilitarian, with a tall barrier separating the sexes within one large room, a minimum of lined up faucets on both sides and a single large bath for the already washed bathers to sit in among others. Since the second half of the 20th century, these communal bath houses have been decreasing in numbers as more and more Japanese residences now have baths. Some Japanese find social importance in going to public baths, out of the theory that physical proximity/intimacy brings emotional intimacy, which is termed skinship in pseudo-English Japanese. Others go to a sentō because they live in a small housing facility without a private bath or to enjoy bathing in a spacious room and to relax in saunas or jet baths that often accompany new or renovated sentōs.Another type of Japanese public bath is onsen, which uses hot water from a natural hot spring. In general the word onsen means that the bathing facility has at least one bath filled with natural hot spring water. However throughout the Kansai region of Japan the word ""onsen"" is also a commonly used naming scheme for sentō. Sentō and supersentō in Kansai that do have access to a hot spring well often differentiate themselves by having ""natural hot spring"" (天然温泉) somewhere on their signage.