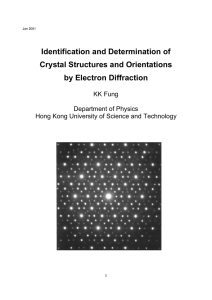 Identification and Determination of Crystal Structures and
... d. Rotating the regularly spaced lines into a horizontal position results in a vertical row of spots. The optical transform of a cross grating of regularly spaced lines is a pattern of spots regularly spaced along two perpendicular directions. The spot pattern is the optical analog of the diffractio ...
Structure factor
In condensed matter physics and crystallography, the static structure factor (or structure factor for short) is a mathematical description of how a material scatters incident radiation. The structure factor is a particularly useful tool in the interpretation of interference patterns obtained in X-ray, electron and neutron diffraction experiments.The static structure factor is measured without resolving the energy of scattered photons/electrons/neutrons. Energy-resolved measurements yield the dynamic structure factor.