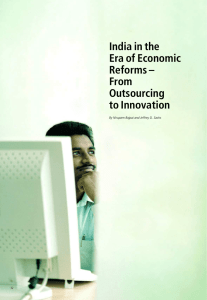 India in the Era of Economic Reforms – From
... each year are a huge advantage for India." Fortunately, economic reform and public-sector investments can improve conditions in India's relatively laggard northern and central states, especially in the Gangetic valley. There is no reason for continuing with large, untargeted, and non-merit goods sub ...
India as an emerging superpower
The Republic of India is considered as one of the possible emerging superpowers of the world. This potential is attributed to several indicators, the primary ones being its demographic trends and a rapidly expanding economy. The country must overcome many of the economic, social, and political problems before it can be considered a superpower. It is also not yet influential on the international stage as compared to the United States or the former Soviet Union.